Every Guest Room features a furry, huggable Teddy Bear made from the luxurious Alpaca Fiber
We believe these are quite possibly the "softest, most huggable bears in the world". They are very popular with our Guests, many of whom like purchasing "their guest room companion bear" home as a memento of their stay!
The Alpacas raised at Maple Hill Manor Farm contribute to this effort by annually "donating" their sheared fiber that is used to make these adorable keepsake bears – as well as for the following finished-products as well: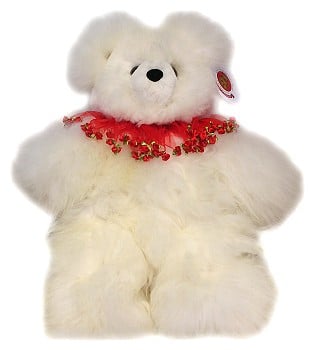 hats and gloves
sweaters
capes and shawls
scarves
socks
blankets and throws
All these and more are featured in the Maple Hill Manor Farm Store, which is always accessible to Guests during their stay.
Our Alpaca Fur Bears are a favorite item and come in a wide variety of colors and sizes.  Alpacas produce 23 natural colors, more than any other fiber-producing animal in the World. Several bears are "hibernating" in the farm store, all of which are available for sale as well. Priced from $14.95 to $36.95.