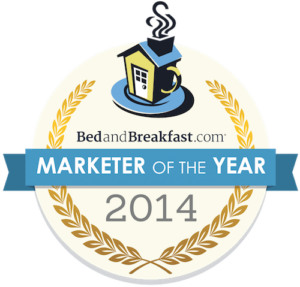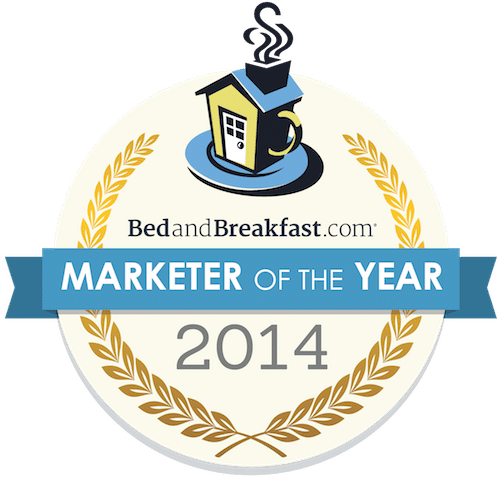 BedandBreakfast.com, the most comprehensive global site for inspiring, planning and booking bed and breakfast properties, announces the first "B&B Marketer of the Year Award" to recognize bed and breakfast owners who excel at developing and implementing successful marketing programs, in addition to the many other hats owners wear to promote B&Bs to guests.
BedandBreakfast.com's  inaugural award goes to J. Todd Allen, owner of 1851 Maple Hill Manor in Springfield, Kentucky, and Bourbon Manor in Bardstown, Kentucky.   BedandBreakfast.com also recognizes two runner-ups:  Elisse Jo Goldstein-Clark with Elkhorn Inn & Theater in Landgraff, West Virginia, and Roy Forsberg with Wolf Cove Inn in Poland, Maine.
"We all know that B&B owners wear many hats – general manager, chief marketing officer, chef and concierge – so that they can offer exceptional hospitality and service to guests," said Matt Laessig, general manager of BedandBreakfast.com.  "BedandBreakfast.com congratulates Todd Allen as the 'B&B Marketer of the Year' and the two runner ups for promoting not only their inns so successfully, but also for the special and memorable B&B experiences that attract new guests and keep them returning time and time again."
Allen won for his marketing program that included ongoing, consistent messaging and promotion on social media, advertising, updated website, e-newsletters, open house events, and direct mail;  a Refer A Guest program; participation on leading B&B and travel sites; and sponsorship of community events and other local tourism promotions.   To promote his inns, Allen also leveraged his current and past association relationships, including president and board member of the Bed and Breakfast Association of Kentucky, founder and president of the Central Kentucky Agritourism Association, and president of the Springfield/Washington County Kentucky Chamber of Commerce.
"Successful marketing campaigns do not rely on just one silver bullet," said Lisa Chen, BedandBreakfast.com director of global marketing. "Todd Allen stood out among the 50 entries we received because he is an exceptional example of someone who shares his passion for B&B hospitality with his guests through lots of different marketing and promotional programs."
Allen achieved more than 90 percent occupancy from February to October, nearly 80 percent occupancy in the off-season, consistent revenue and profitability year-over-year, ongoing press and media coverage, and more than 40 percent repeat business.
A panel of judges critiqued the entries based on the following criteria:  tangible and significant results, clearly defined marketing objectives, clearly defined target audiences, a multi-faceted marketing program, and creativity.  The judges included Allison Crumpton with White Stone Marketing, Marti Mayne with Maynely Marketing, and Lisa Chen, Janice Hurley and Tim Wilson of BedandBreakfast.com.
As the B&B Marketer of the Year, Allen wins a $1,000 Lowe's Gift Card, six months of free flowers from The Bouqs, and an award plaque to display.