Maple Hill Manor is located on 15 scenic acres which includes a wooded & Wildflower Nature Preserve with walking paths.
We also raise Suri Alpacas, Llamas, a Kentucky Mountain Horse – Pretty Penny, 2 Golden Retrievers – Sophie & Sammy, and several barn cats available for your enjoyment during your stay!
We specialize in Suri Alpacas which represent only 2% of the overall Alpaca population in the world. Maple Hill Manor is one of the first farms in Kentucky to raise Alpacas and Llamas! We are the largest Suri Breeding Program in Kentucky. These rare and exotic South American animals are as beautiful as they are fascinating. The fleece of the Alpaca, especially the Suri Breed, is considered to be one of the finest fibers in the world! We breed, board, show, sell, and feature fiber products on our farm. Guests of all ages enjoy these wonderful animals – whether it's an overnight stay or a Farm Visit. Groups welcomed too – with advance notice.
Interested in investing and raising Alpacas?
Make $$$ Raising Alpacas
Significant Revenue Potential
Rewarding Family Lifestyle
$125,000 Tax Benefits
Ideal Retirement Plan
Enjoyable for the Entire Family
START-UP SPECIAL: Buy 1 Alpaca, Get 1 50% OFF/Special Packages Available As Well
Start-up Assistance
Ongoing Education & Mentoring
Financing Available
Lease-to-Own Options
100% Mortality & Theft Insurance
Upcoming Educational Workshops and Farm Events
Learn the Art of Spinning from Local Spinners – Winter Fiber Art Seminars at Maple Hill Manor (Learn the basics of spinning – Spinning Wheels available for use and sale)
Date: Call for upcoming dates or schedule an appointment for a FREE FARM CONSULTATION
Seminar Includes:
supplies and instruction
refreshments
discounts on Farm Store purchases (yarn, roving, felted batting)
20% discount off B&B overnight accommodations
GREAT FUN for Everyone!
COST: $55/person or $100 for 2 people, RSVP required by calling Todd Allen, (859) 336-3075
Annual Shearing Day at Maple Hill Manor: April 
Join the fun and work on a Fiber Farm for the day. Help handle the farm animals, collect fiber into bags, and shop the farm store for SPECIAL SAVINGS featuring our ANNUAL CLEARANCE SALE…everything is 50% OFF, only on this date! Call for additional details: 859.336.3075 or email: maplehillmanorbb@aol.com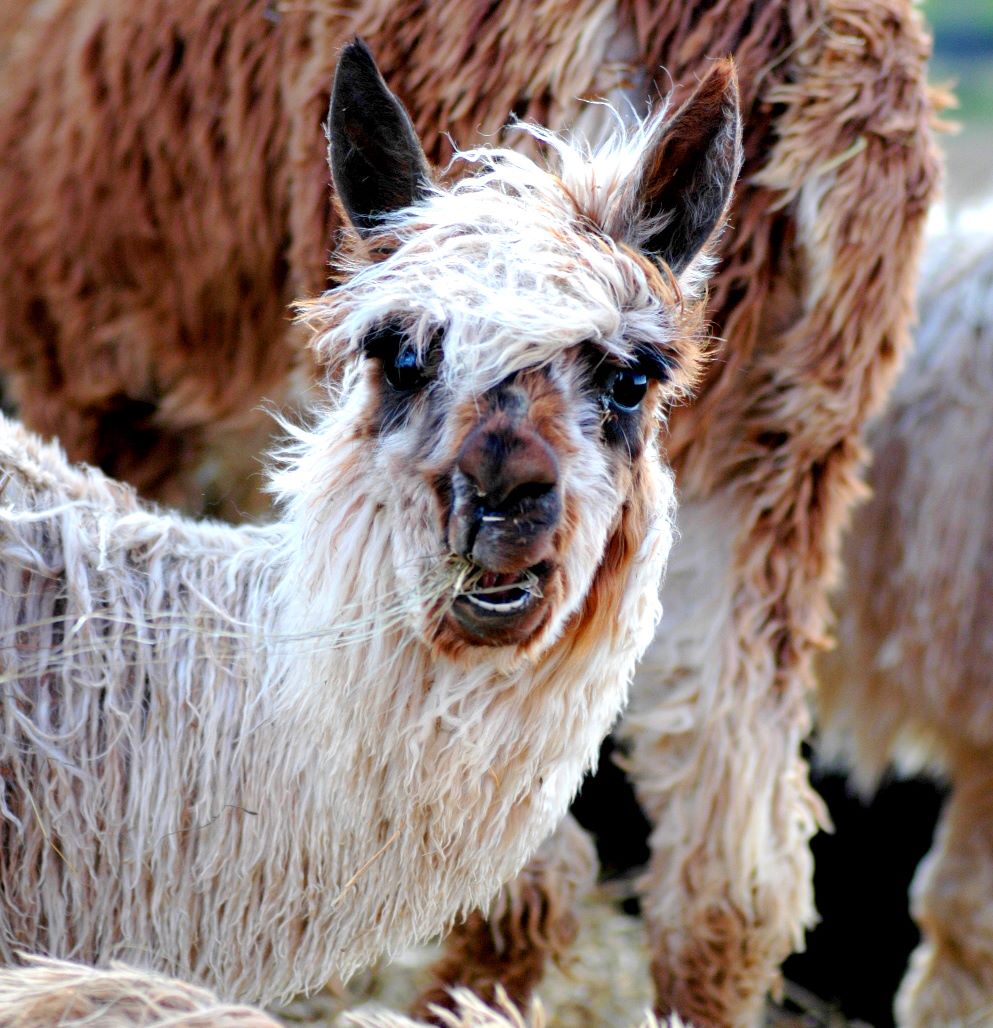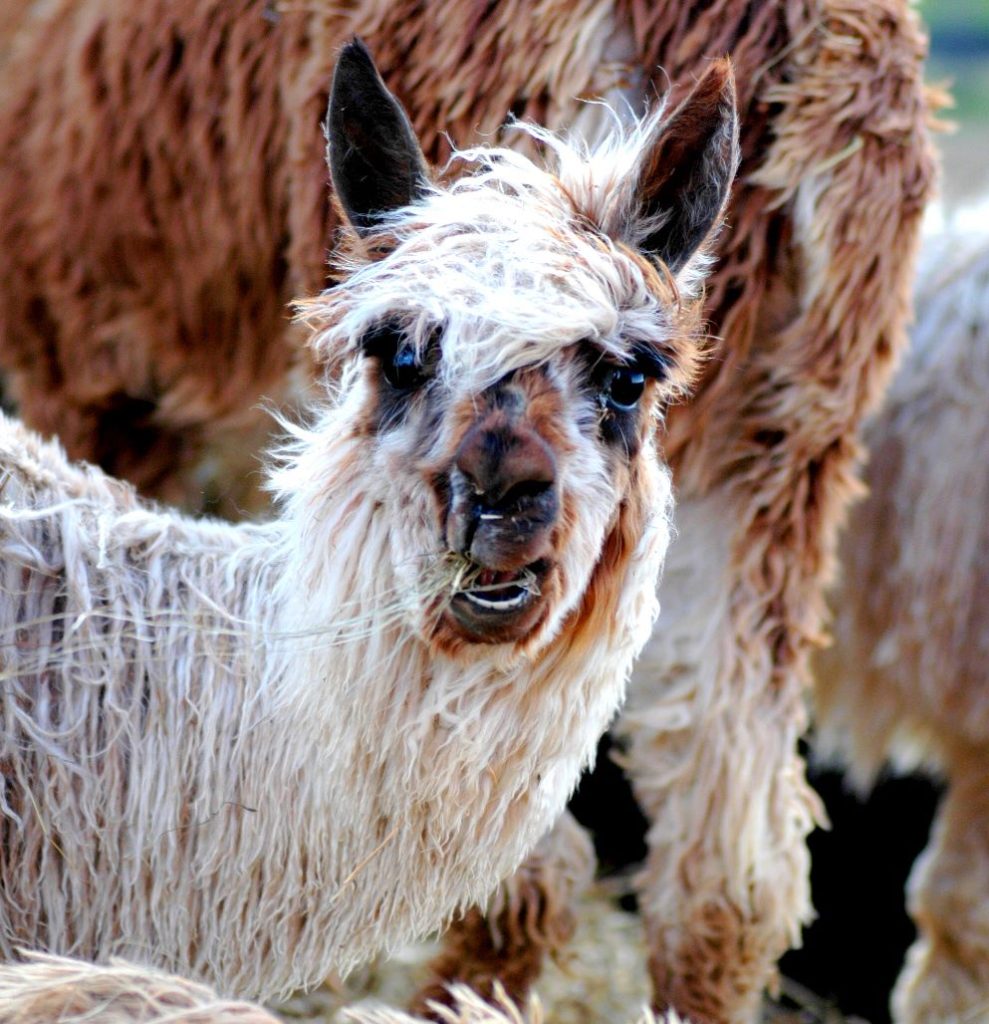 STAY, WORK, & LEARN on a Kentucky Farm Stay:
Available Year-round…Spend a week learning how to raise and care for Alpacas. Actively help with daily chores, learn about their luxurious fiber and its many uses, work with the fiber, and receive a discount for staying on a working farm for the week. Receive a 30% Discount for a 5-night stay, plus, receive a discount on a starter Alpaca herd. Learn from our 10 years in the business and we will gladly help you get started. Call for further details: 1.800.886.7546
Alpacas are members of the camelid family.
Alpacas stand approximately 36 inches tall at the withers.
Alpacas weigh between 100 to 200 pounds.
Alpacas are mild tempered, curious and demand very little.
Indigenous to South America, the alpaca's winning attribute is its beautiful fleece.
Alpaca fiber is processed into yarn for knitting and weaving or sheet goods.
Alpacas require small amounts of food since they have a three-compartment stomach.
Alpacas are easy on the land due to their padded feet.
Five to ten alpacas can be successfully raised on one acre of land.
Manure is kept to a communal spot thus reducing parasite infestation.
Alpacas come in 22 distinct colors.
Gestation is approximately 345 days.
Alpaca fleece has no grease or lanolin so it is naturally hypoallergenic.
A baby alpaca is called a cria.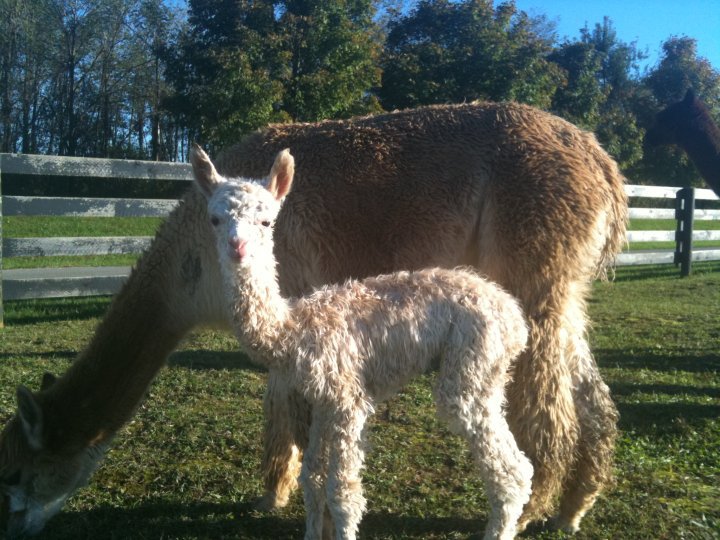 Why Raise Alpacas?
There are many reasons why so many people across the United States are investing into alpacas. Ownership is not limited to doctors, lawyers, accountants and veterinarians, but also handcraft artisans, city dwellers, celebrities, and families everywhere. Many have decided that alpacas are right for them.
Alpaca ownership patterns are not as distinguishable as in other livestock industries. People of widely diverse lifestyles are attracted singularly to alpacas, with many different motives for ownership. As recognition grows, so does the number of people who find this unique creature to be a brilliant source of income and the right fit for their lifestyle. The Alpaca Owners and Breeders Association (AOBA) reports the following list of typical owners:
Entire families
Young couples with children
Retired couples
Hand-Spinners
Veterinarians
Families where one spouse works and the other manages the farm
Working couples who take care of the animals in the evening
City Dwellers who "agist" (board) alpacas
And those are just the more common examples. People from all walks of life are alpaca owners and breeders. Many people all over the world have decided that alpacas are an exciting and profitable venture.
Alpaca breeding is an alternative lifestyle with strong income potential.
Alpaca ownership creates a wide array of tax benefits.
Alpaca farming is a fulfilling lifestyle.
Alpaca ownership can include 2 alpacas to thousands!
Alpacas provide a diversification in your financial portfolio.
Alpacas create a commodity that is both rare and in demand worldwide.
Alpacas are considered the "Aristocrat" of all farm animals.
Alpacas produce a luxury product that is in high demand. Textiles produced from fleece are known in the fashion centers of New York, Paris, Milan and Tokyo.
Alpacas have a charismatic manner and do well on small acreage.
Alpacas live a relatively long and trouble-free reproductive lifespan.
There are two distinct breeds of alpacas: Huacaya (wah-KI'-ya) and Suri ("surrey"). Both fleeces are soft and luxurious.  Eighty two percent (82%) of alpacas are huacaya, with full, puffy fleeces whose crimp or crinkle is found throughout their fleeces. Suri alpaca fleece has the lustrous, penciled fiber that hangs down in "dreadlocks", giving the suri alpaca an entirely different appearance.  Fibers of both types are considered luxury fibers in the textile trade because of their unique qualities.  The twenty two colors range from white to fawn, brown to true black and silver gray to dark rose gray. No other animal on earth comes in so many natural shades! While the difference between Huacaya and Suri is unmistakable (see below), they are physiologically alike in virtually every other respect.
Alpacas are shorn for their valuable fleeces.  Alpaca fiber is incredibly soft, breathable and versatile. Yearly, each animal produces approximately five to fifteen pounds. While baby alpaca fiber is the most luxuriously soft, yearlings typically provide the finest fleeces.  Depending upon its weight, quality, and cleanliness, an alpaca fleece commands $150 – $400.  That fiber is then spun into yarn. The finished product can be seen in all aspects of fashion. There are hand knitted and crocheted sweaters of all sorts, worsted suits, felted hats and shoes, and even formal and wedding dresses. Alpaca can be woven, worsted or felted into a virtually limitless number of beautiful items. To see a beautiful selection of such items visit Maple Hill Manor's Farm Store.
The compact size of alpacas contributes to easy management. They can easily be trained to lead, jump in and out of vehicles, kush (sit down), and obey other simple commands.  Alpacas provide a wonderful and easy lifestyle.
How would you like to trim your tax liability 10-15% or more? Alpacas are the answer. Instead of paying Uncle Sam the normal 35% +/-, you can chose to enhance your real estate, purchase animals, and deduct expenses directly against earned income. If you prefer to agist or board the animals, you can capture the expenses and cost of the animals against passive income now and 15 years into future. Tax deferred wealth building is another benefit. Taxes are postponed on the increased value until you are ready to start selling the offspring.
Many alpaca breeders throughout the United States have recognized financial and personal freedom. The rewards are many. Their initial investment has grown to a level that permits early independence. Individuals have recognized that their current careers can be incorporated into alpaca breeding with positive results.
Raising alpacas on your own property:
>First you must establish that you are actively involved in the business and desire to make a profit. Alpaca ownership suggests you:
| | |
| --- | --- |
| A. | Operate the farm in a business like manner |
| B. | Depend to some degree on income from your farm |
| C. | Calculate that losses are circumstantial and beyond your control or are normal in the start up phase |
| D. | Change your operations to increase profits |
| E. | Conduct operation as a business, not a hobby |
Even if you are a passive investor you will still be allowed the following tax benefits.
The only question remains as to whether you can take the deductions on a current basis.
Deductible Expenses:
Vehicle mileage for all ranch business
Fees for income tax return
Livestock feed
Labor hired to run the ranch
Breeding Fees
Taxes and insurance
Depreciation on animals
Depreciation of real property such as barns and equipment
Farm travel expenses
Educational expenses
Advertising
Veterinarian care
Boarding fees
Farm fuel and oil
Attorney fees
Also refer to Section 179 from the IRS that allows a substantial deduction each tax year for expenses.
The passive owner's losses that are in excess of current income can be carried forward and taken against future income. Timing is the issue.
Tax deferment:
Alpacas in which you have cost basis can be written off over 5, 7 or 10 years if there are being held as breeding stock. Straight line or accelerated schedules allow for a percentage of the asset to be written off. Example: An alpaca is purchased for $20,000, depreciated for 2.5 years or 50% of its value and then resold for $20,000. There would be a gain for tax purposes of $10,000. Result = The adjusted cost basis is deducted from your sale price to determine gain or loss.
Capital Gain Treatment:
The sale of breeding stock qualifies for capital gains treatment. Please note that newborn crias that are not intended for breeding purposes would be considered inventory and produce ordinary income at the time of sale.
Good News!!
President Bush put into law The Jobs and Growth Tax Relief Reconciliation Act of 2003 on May 28, 2003. Tremendous benefits were made available to alpaca owners and breeders.
The Section 179 of the tax code allows $120,000 worth of deductions of new and used personal property assets in the year that you place them in service.
Long term capital gain income is "on sale" in the tax world! The maximum rate lowered from 20% to 15%.
Now for the GREAT NEWS!  The Economic Stimulus Act of 2008 has been modified.
    1.    You may still expense up to $120,000 for year 2010!
Please refer to IRS Publication 225, "Farmer's Tax Guide" for more information. It can be attained at the IRS website http://www.irs.gov
Of course, your accountant can advise you of your tax structure and we recommend that you follow that advice.
These are just a few of the exciting
tax advantages of alpaca ownership
Compounding
Well, we know you have heard of compounding. This basic principal exists with alpaca ownership. They multiply! Imagine getting a return of $10,000 – $15,000 +/- on your $30,000 investment in one year? This does and can happen to you. The only glitch … you do have to sell the alpacas. Too many farms are reluctant to sell the animals and their return on investment is minimized. Don't make that mistake.
Play with the following compounding table and exercise all the possibilities that would be right for you!
Published with permission from the Alpacas Owners & Breeders Association

Supply and Demand
Price is always a result of supply and demand. With a long gestation period and the inability to import, demand for alpacas has steadily increased every year. This growing trend is clearly illustrated in the climbing numbers of the Alpaca Owners and Breeders Association Membership (AOBA). When AOBA was established in 1988, only 87 members with less than 400 alpacas were involved. In 2009, the association has become representative of a billion dollar industry, claiming 12,165 members owning more than 145,000 alpacas. And this is only the beginning!
The price range that can be found in one's initial search may be lower or higher than the average cost range published by AOBA (see Table 2). This said: The key for capitalizing on this growing industry is in purchasing quality alpacas. Price of an animal will depend on conformation , fleece qualities, positive proven heritable traits, bloodlines, sex, age, and pregnancy status. Auction results from AOBA will show you what has been happening throughout the last few years. You be the judge!
The appreciation of the alpaca has grown steadily. The following figures were taken from Celebrity Sales Inc.
AOBA Auction Overall Average Price by Year

2007

Overall average price
$26,864

2005

Overall average price
$30,211

2004

Overall average price
$34,600

2003

Overall average price
$26,047

2002

Overall average price
$21,810

2001

Overall average price
$21,476

2000

Overall average price
$20,780

Other  Recent Auction Highs

2010

Snowmass Making of Champions Private Selection Sale. MALE
$675,000

2010

Snowmass Making of Champions Private Selection Sale. FEMALE
$100,000

2008

Parade Of Champions (Pacific Crest)
$25,985

2008

Futurity
$26,420
Average
$26,420
Highest selling male Alpaca
$250,000
Highest selling female Alpaca
$80,000

Data taken from Celebrity Sales
As you can see, the American Alpaca Industry is growing. Demand for premium quality animals is evidenced by the price the public is willing to pay. The quality of animal with excellent conformation and exceptional fleece characteristics continues to rise as well. American breeding practices are setting the stage for future fiber processing on a nationwide scale.
Type

Cost (in U.S. dollars)

Non-breeding male

1,000

Weanlings

15,000- 25,000

Bred Female

25,000- 35,000

Herd sire

50,000- 300,000
Associations & information in the 7 billion dollar industry
AOBA
The Alpaca Owners and Breeders Association (AOBA) was founded in 1988 with 87 members and approximately 390 alpacas. The membership has steadily grown to 3,700 members and 50,000 alpacas in 2003. The purpose of AOBA is to:
Promote public awareness of alpacas;
Educate the membership on care and breeding of alpacas;
Promote the alpaca industry;
Foster the establishment of the breed outside of its native land.
Alpaca breeders from all walks of life interact with each other through this association by participating in shows and open houses, co-owning animals, and by sharing their acquired expertise. (AOBA Mission Statement)
Membership entitles you to participate in annual national conferences (2), seminars, advertising opportunities and much more!
Visit the AOBA website to learn more at www.alpacainfo.com.
---
ARI
The Alpaca Registry was established in 1988. The "Registry" is a record keeper and monitor of all registered alpacas. A five member elected Board of Directors governs the registry.
Approximately 95% of all alpacas in North America are registered. Registration requires DNA samples, without which tests recognition is denied. ARI owns the database that holds the genealogy, ownership and number of US alpacas. Membership benefits include access to this database, where one can find an alpaca's heritage and offspring in order to make an informed decision.
Visit the ARI website to learn more at www.alpacaregistry.net.
---
National Conference
This is the pinnacle of the alpaca gatherings. Alpacas and their owners come together for show competitions, auction, fashion show, educational sessions, meetings and so much more. There is an air of camaraderie as alpaca owners share their insight and knowledge. Vendors are also present to entice all with their latest merchandise. Beautiful accommodations, luscious meals and delightful entertainment make this an event to not miss. Records are broken as the quality of alpaca continues to rise. The 2006 National Conference will be held in Louisville, KY in May 16-21, 2006.
Visit the Alpaca Info website to learn more at www.alpacainfo.com
---
Fiber To Fashion
This winter national conference is geared toward fiber and fashion. Seminars taught by leading figures in their fields share the wealth of knowledge to all that participate. Workshops provide "hands on" application for students. Vendors are available to showcase the latest fashions in alpaca. Student competitions highlight the vision of our youth. Fiber artisans display their fine art. A first class fashion show is the highlight of the event. You don't want to miss this opportunity to learn, network and talk with alpaca loving individuals!
Visit the Alpaca Info website to learn more at www.alpacainfo.com
---
The Support Systems
National community of alpaca farms, owners, breeders with tremendous support
National Conventions, National Fashion Shows, Show Competitions and Auctions
AOBA (Alpaca Owners and Breeders Association)
Alpaca Registry, Inc. (ARI)
Alpaca Fiber Co-op National Association (AFCNA)
Fiber To Fashion
Alpaca Magazine
One Voice ( quarterly newsletter of AOBA and ARI )
Alpaca Research Foundation (ARF)
International Alpaca Association
Affiliate Associations
---
How To Get Started!
Do your Homework!
Consult your Accountant
Seek a qualified Veterinarian
Develop a Business Plan
Join national and local alpaca associations
Visit several alpaca farms
Buy alpacas!!
---
Books to consider:
Medicine and Surgery of South American Camelids by Murray Fowler
The Complete Alpaca Book by Eric Hoffman
Alpacas – Synthesis of a Miracle by Michael Safley
The International Alpaca Handbook. Ian Watt ( Editor and Publisher )
Alpaca Field Manual by C. Norman Evans, D.V.M.
The Camelid Companion by Marty McGee Bennett
---
References:
AOBA
AFCNA
The Complete Alpaca Book
Medicine and Surgery of South American Camelids
Alpaca from Fleece to Fashion
Alpacas Magazine
Focus on Fashion
Alpaca Field Manual
FOR IMMEDIATE RELEASEContacts: Todd Allen & Tyler Horton, Co-Owners
Maple Hill Manor B&B, Alpaca & Llama Farm, and Fiber Farm Store
859.336.3075 phone, 859-336-3076 fax
alpacas@maplehillmanor.com
www.maplehillmanor.com
Maple Hill Manor's Excellent Agricultural Adventure: 
An enjoyable, eco-friendly, and financially rewarding lifestyle

An incredible adventure of a lifetime began 10 years ago for Todd Allen & Tyler Horton, Owners/Innkeepers of Historic Maple Hill Manor Bed & Breakfast, located in Springfield, Kentucky. Both became interested in raising Alpacas having seen one for the first time, while attending the Kentucky State Fair in 2000. "It was love at first sight," states Tyler Horton. From the animal's elegant beauty, luxurious fiber, inquisitive personality, to their graceful and calming affect on others, we immediately became intrigued to learn more about this unique fiber animal and the many benefits afforded in raising them. We researched and visited farms out of state for a year before investing in our starter herd. After both were laid off their corporate jobs after 9/11, they purchased a 150 year-old Antebellum Mansion known as Maple Hill Manor, and started their Agriculture Adventure raising Alpacas and Llamas and operating a Farm Stay B&B. Co-Owner, Todd Allen, states that "Both aspects of the operation have been an ideal complement to one another and have provided an enjoyable, fulfilling, and rewarding farm life."
Alpacas, cousins to the Llama, are native to the Andean Mountain range of South America, particularly Peru, Bolivia, and Chile. Alpacas were first imported into the United States in 1984. Since then, the alpaca industry has grown steadily, according to the Alpaca Owners and Breeders Association (AOBA), the backbone of the alpaca industry. Current estimates total over 120,000 registered alpacas with the Alpaca Registry, Inc. (ARI) in the United States and more than 4,000 AOBA members in North America.
There are two types of alpacas in the United States today. Although almost physically identical, what distinguishes the two types of alpacas is their fiber. The Huacaya (wa-Ki'-ah) is the more common of the two and has a fluffy, extremely fine coat. The Suri is the rarer of the two and has fiber that is silky and resembles pencil-locks. Adult alpacas stand at approximately 36 inches at the withers and generally weigh between 150 and 200 pounds. They do not have horns, hooves, claws or incisors. Alpacas are alert, intelligent, curious, and predictable. Social animals that seek companionship, they communicate most commonly by softly humming. Alpacas are shorn, without harm, every twelve to eighteen months. They produce five to ten pounds of luxurious fiber. Long ago, Alpaca fiber was reserved for Incan Royalty. Today it is purchased as raw fleece by a national fiber cooperative, hand-spinners, and fiber artists. Knitters and weavers buy it as yarn. Because of its soft texture, alpaca fiber is sometimes compared to cashmere. However, fiber studies have proven that Alpaca fiber if even a superior fiber to cashmere. Making the fiber even more coveted, it has the luster of silk. Alpaca is warmer than wool, yet 1/3 the weight of wool to achieve that warmth. It comes in 22 natural colors, yet can be dyed any desired shade. Containing no lanolin, alpaca fiber is also naturally hypoallergenic. Most people who are sensitive to wool find that they can wear alpaca without the itching or irritation they feel from wool because alpaca fiber is smooth. Additional performance characteristics include: stretch, stain resistant, water repellency, and odor reduction. For travelers, clothing made from alpaca is desirable because it is wrinkle-resistant.
Allen and Horton, have enjoyed raising Alpaca at their historic farm setting of 15 acres, which operates as a Kentucky Farm Stay Bed & Breakfast. "We have truly enjoyed the experience of raising them, while offering our overnight guests an educational learning experience. Alpacas exude personality and charm, exhibit an inquisitive and playful nature, produce one of the world's finest luxury fibers, and are easy to care for and raise. We love to show the animals and their fleeces, the selective breeding decisions to improve our breeding and fiber program year-over-year, and the thrill of helping other farmers and/or investors start in this business," states Tyler Horton.
"We have carefully selected some of the best bloodlines in the nation to include in our herd. Our B&B Guests of all ages enjoy learning about them, handling them, helping with the farm chores, learning a new fiber craft, and shopping the farm store," states Todd Allen. "We work with several local artisans to make scarves, shawls, hats and gloves, blankets, and other garments and gift items available for consignment in our Farm Store. We also work with local spinners and a local mill to make yarn and roving for us. We also work with many local and nationally-known Fiber Artists for our annual fiber workshops, open farm day celebrating National Alpaca Farm Day, and Holiday Historic House Tour & Alpaca Fiber Farm Store Holiday Bazaar, which are posted on our website: www.maplehillmanor.com. Our next workshop will be focused on getting started with raising Alpacas, which is set for Saturday, June 19, 1-5pm."
As for the eco-friendly aspect of Maple Hill Manor's endeavor, Alpacas may be the most environmentally- friendly livestock that exists. How so?
1. They have padded feet, not hooves. That means they don't damage a delicate landscape. (Lots of heavy hooves clomping around can lead to soil erosion and weeds.)
2. They don't have upper teeth. Thus, they gently trim tender grass with their bottom teeth and upper palate, rather than pulling it up by its roots. Their gentle nibbling keeps grass growing. But they're not too picky: alpacas don't mind eating some leaves and brush. 3. A group of alpacas prefer to leave their droppings in a single communal area. And if that's not handy enough, their pellet-sized droppings make a great natural, slow-release fertilizer.
4. They don't need chemicals or insecticides or herbicides or fertilizer: Alpacas are all natural.
5. They don't eat a lot and they like hanging out with each other, so you can fit 5 to 10 of them on an acre.
6. The best part: Shorn about once a year, usually in the spring, an alpaca will provide 5 to 10 pounds of some of the finest fiber in the world (in 22 natural colors).
As for the numerous benefits and rewards in raising Alpacas & Llamas, there are many…
• Alpaca breeding is an alternative farm lifestyle with strong income potential generated in several ways (animal sales, breeding/herdsire fees, boarding, showing, raw fiber, and finished products)
• Alpaca ownership creates a wide array of tax benefits (up to $120,000 in 2010)
• Alpaca farming is a fulfilling lifestyle
• Alpacas provide a diversification in your financial portfolio
• Alpacas create a commodity that is both rare and in demand worldwide
• Alpacas produce a luxury product that is in high demand. Textiles produced from fleece are known in fashion centers of New York, Paris, Milan and Tokyo.
• Alpacas live a relatively long and trouble-free reproductive lifespan of 18-25 years
• Minimal Risk: available livestock insurance for full mortality and theft
Maple Hill Manor was one of the first 10 farms in Kentucky to start raising Alpacas. Today there are nearly 100 farms across the state. Maple Hill Manor has grown to be the largest purely Suri Alpaca and Llama Breeding Program in Kentucky. It features a Fiber Farm Store, not only available to its many overnight B&B Guests, but open to the public as well. It is a member of Kentucky Proud, Kentucky Farm Bureau Roadside Market, Kentucky Alpaca Association, Alpaca Owners and Breeders of America (AOBA), Alpaca Registry (ARI), the Suri Network, Alpaca Fiber Cooperative of North America, Inc. (AFCNA), and the Central Kentucky Agritourism Association (CKAA).
To celebrate its 10th year in the Alpaca business, Maple Hill Manor is offering the following incentives to those interested in starting their own Alpaca herd: start-up assistance, ongoing education and mentoring, discounted start-up packages, low financing terms, lease-to-own options, and generous guarantees. Free Transport of any female alpaca purchased along with a free breeding to any of Maple Hill Manor's champion bloodlines. Plus, if purchased by June 30th, Maple Hill Manor is offering a Buy 1/Get 1 FREE Special as part of their 10th-anniversary celebration. Proceeds from the sale of Alpacas will help with business expansion. An expansion phase is now underway at Maple Hill Manor to construct an Agritourism Fiber Education Center & Event Barn.
Maple Hill Manor is located at 2941 Perryville Rd., U.S. 150, 2 ½ miles east of Springfield. To find out more about Maple Hill Manor, visit www.MapleHillManor.com or call 859.336.3075. Photographs available upon request: maplehillmanorbb@aol.com
###
For more details and to schedule a Farm Visit and FREE Consultation:
Call 859.336.3075