Maple Hill Manor's Lemon Souffle Pancake with Blueberry Compote Recipe WINS
"SWEET AND SAVORY" BEST B&B BREAKFAST TOURNAMENT
Breakfast Lovers and B&B Fans Vote for Best B&B Breakfast in the World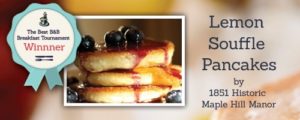 SPRINGFIELD, KENTUCKY – Breakfast lovers and B&B fans were invited to help select the Best B&B Breakfast in the world during the BedandBreakfast.com® Best B&B Breakfast Tournament™, which kicked off on March 25th. From creamy, cheesy egg dishes to delectable pastries and pancakes, the contest was a two-week recipe battle between sweet and savory.
BedandBreakfast.com's Best B&B Breakfast Tournament contest works in brackets, much like the NCAA Basketball®'s March Madness®, with Facebook® fans narrowing BedandBreakfast.com's top 16 favorite Sweet and Savory breakfasts into the Excellent Eight, Foodie Four and Final Two Showdown. Fans selected the best B&B breakfast on April 8th.
The top Sweet and Savory 16 were chosen based on recipe creativity, uniqueness and appeal by guest judges including Anne Banas, SmarterTravel.com; Susannah Chen, PopSugar.com; and Adrien Glover, Travel + Leisure.
One of Kentucky's very own B&Bs WON the Tournament Championship – 1851 Historic Maple Hill Manor Bed & Breakfast located in Springfield, where Owners/Innkeepers, Tyler Horton and Todd Allen were recognized nationally for the scrumptious breakfast they serve their guests each morning. Their Lemon Souffle Pancake Recipe was featured in the national contest – see recipe below.
Maple Hill Manor's Lemon Soufflé Pancakes with Blueberry Compote Recipe
Servings: 8
Prep time: 15 minutes
Ingredients:
1 1/2 cups all-purpose flour
3 1/2 teaspoons baking powder
1 teaspoon salt
1 teaspoon cream of tarter
1 lemon zest ( grate or zest outer portion of lemon)
1 tablespoon white sugar
1 1/4 cups milk
1 egg
3 tablespoons butter, melted
Step 1:  
In a large bowl, sift together the flour, baking powder, lemon zest, salt and sugar. After sifting, add cream of tarter and lemon zest. Make a well in the center and pour in the milk, egg and melted butter; mix until smooth.
Step 2:
Heat a lightly oiled griddle or frying pan over medium high heat. Pour or scoop the batter onto the griddle, using approximately 1/4 cup for each pancake. Brown on both sides, creating crispy edges. Top with fresh blueberries and warm maple syrup.
Step 3: 
Blueberry Compote Topping (recommended) – 3 cups frozen or fresh blueberries, unthawed (save a ½ cup for garnish), 1/3 cup sugar, and 1/3 cup water. Combine 1 1/2 cups blueberries, sugar and 1/3 cup water in heavy small saucepan. Simmer over medium heat until berries burst, stirring often, about 10 minutes. Add remaining 1 cup berries. Cook until compote coats spoon, stirring often, about 8 minutes. (Can be made 3 days ahead. Cover and chill.) Serve warm over Maple Hill Manor's Lemon Soufflé Pancakes. Garnish with fresh blueberries and powdered sugar for a nice presentation.
Click here for a list of the Sweet and Savory 16 finalists and their recipes.
About BedandBreakfast.com
BedandBreakfast.com, based in Austin, Texas, is the most comprehensive global site for finding bed and breakfast properties, with more than 13,000 properties worldwide, representing nearly 80,000 rooms. It is owned by HomeAway, Inc., the worldwide leader in online vacation rentals. BedandBreakfast.com helps travelers find and book the ideal B&B or small inn through informative descriptions, photos, and more than 210,000 consumer reviews. BedandBreakfast.com offers convenient gift cards welcomed at more than 4,000 B&Bs in the United States and Canada, with no restrictions or blackout dates.
CONTACT: Denise Clarke, for BedandBreakfast.com, 512.899.0004, denise@deniseclarkePR.com
About Maple Hill Manor Bed & Breakfast
Maple Hill Manor has welcomed tourists to Central Kentucky for 25 years, providing award-winning B&B accommodations. Guests are invited to relax and experience a scenic, country-setting on the historic, Kentucky Farm, which dates back to 1851. It is located on the Bourbon Trail, just minutes from America's "Most Beautiful Small Town," Bardstown, and only an hour's drive from Lexington or Louisville. Spacious, elegantly antique-appointed Guest Rooms feature a private bath (some with whirlpool baths for 2), fireplaces, Turkish Towels, plush embroidered robes, luxurious bed linens, Alpaca blankets, and top-quality mattresses. Maple Hill Manor offers homemade desserts each evening and a Full Country Gourmet Breakfast with fresh fruit and made from scratch entrées (comprised of Kentucky Proud produce), served with fine table linens, cloth napkins, candlelight, and china and crystal each morning. Tyler's gourmet creations have also been featured in the cookbook, Room at the Table, published by the Bed and Breakfast Association of Kentucky. The working farm, includes over 50 Alpacas and Llamas, a Fiber Farm Store – featuring luxury fiber products made of Suri Alpaca and Suri Llama Fiber, as well as a small orchard, berry patch, and grape vineyard. Maple Hill Manor has been recognized nationally, voted #1 in the U.S. as the B&B with the "Most Historical Charm," "Best B&Bs in the South," "Best Breakfast in the Southeast," "Kentucky's Best B&Bs" by readers of Kentucky Monthly Magazine, and Top 10 Innkeepers in the U.S. by BedandBreakfast.com. www.maplehillmanor.com, 1.800.886.7546, 859.336.3075, stay@maplehillmanor.com.
###