If you're looking for an unforgettable and gorgeous fall getaway, look no further than our sensational Kentucky Bed and Breakfast, located in the quiet countryside of Kentucky Bourbon Country. We're minutes away from all the exciting things to do in Bardstown, including visiting various Kentucky Bourbon Distilleries, and yet miles away from the crowded streets surrounded by nothing but the fresh air of our tranquil farm.
Kentucky is admired the world over for its bright fall foliage. Whether seeing this beautiful change of seasons is the reason for your trip or not, the fall colors will certainly paint a vivid background for your romantic Kentucky getaway! Enjoy scenic drives on our winding country roads, take in the views from a vintage trail car, or hike through beautiful forests and parks in the area. Maybe even sample a splash or two of bourbon along the way!
Whatever brings you to Kentucky this fall, we're sure you'll enjoy the tie away – especially when you choose to relax at our gorgeous and romantic Kentucky Bed and Breakfast. It's time to get out and enjoy the very best things to do in Bardstown. Book your room at Maple Hill Manor today!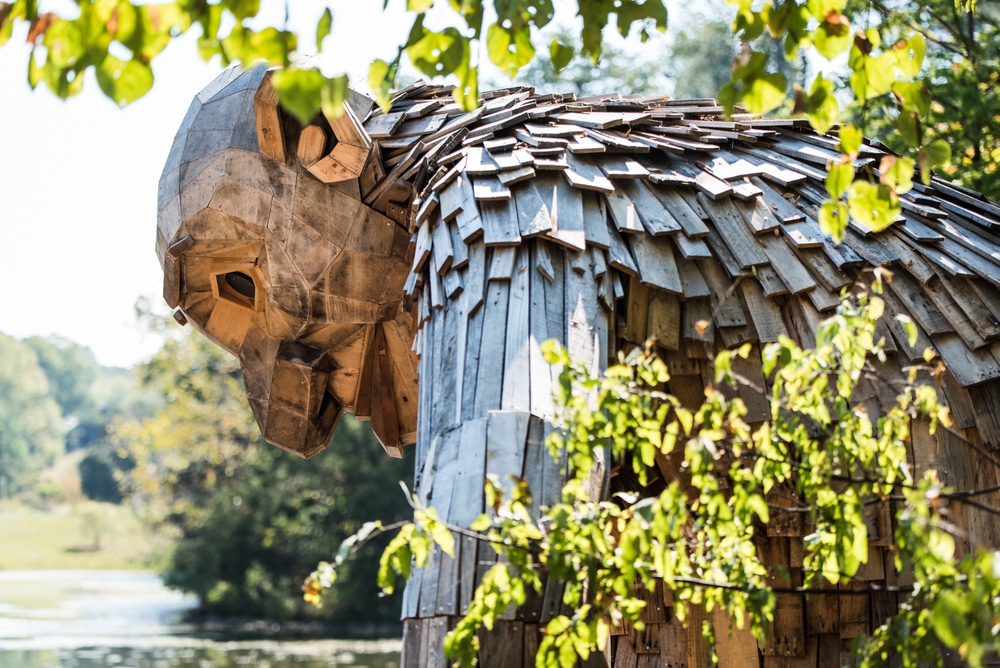 10 Things to Do in Bardstown This Fall
Maple Hill Manor is a premier Kentucky Bed and Breakfast located just over 20 minutes southeast of Bardstown, Kentucky – a town revered for its bourbon heritage. Bardstown has long been considered one of America's most beautiful small towns. Still, its idyllic beauty and delicious bourbon are only two of the many reasons Bardstown is worth visiting this fall!
There are so many fantastic things to do in Bardstown, with a little bit of something for everyone. Whether you're into the arts, history, great food and craft beverages, or would prefer to spend more time in the outdoors, you'll find there are plenty of things to do in Bardstown for those days when you want to do a little more than relax on our quiet farm. Below, you'll find a list of our favorite things to do in Bardstown in the fall.
Bourbon tastings, of course, should be at the top of your list of things to do in Bardstown! There are plenty of great distilleries to choose from, including the Bardstown Bourbon Company, Barton Distillery, Heaven Hill Distillery, Lux Row Distillers, Makers Mark, and many more. We can also recommend the Bourbontown Tours.
Take a gorgeous fall walk through the Bernheim Arboretum and Research Forest. Don't miss your chance to find and visit the friendly giants!
Take a scenic ride through the countryside on My Old Kentucky Dinner Train – one of the most popular things to do in Bardstown!
Enjoy a scenic ride through Bourbon Country on a bike! Pick a route here. Or here and enjoy the views as you ride!
If exploring on your own two feet sounds more appealing, here are some recommended hiking trails in the Bardstown area to enjoy.
Bardstown doesn't have just bourbon distilleries — it has excellent wineries as well. Wine tasting is one of our favorite things to do in Bardstown in the fall!
Enjoy a picnic or a relaxing afternoon at My Old Kentucky Home State Park. It's a beautiful park to explore, full of history, exciting things to see, and abundant natural beauty. It's rated as one of the best things to do in Bardstown for a reason!
One of the best things to do in Bardstown is to walk among the shops and businesses in downtown. It's not only beautiful but filled with great shops and plenty of exciting things to see. Consider taking a historic walking tour of downtown Bardstown, too.
When you need a break, Bardstown is blessed with some wonderful restaurants – including some that take the bourbon theme to a new level!
If you're a history buff, don't miss the Civil War Museum of the Western Theatre, one of the many other fascinating museums in town.

The Best Kentucky Bed and Breakfast Near Bardstown
If you're looking for the perfect romantic retreat near Bardstown, look no further! Our romantic Kentucky Bed and Breakfast is just 25 minutes away, located in the scenic heart of Kentucky's bourbon and horse country. Our Inn is situated on a tranquil and gorgeous farm and is located in one of the best-preserved Antebellum-style homes in Kentucky.
From the moment you first drive up for Maple Hill Manor, you'll see what sets us apart from our competition – and you'll also see why we have consistently been awarded as one of the best Bed and Breakfasts in Kentucky! With seven guest rooms and ample space to spread out, it's the perfect place to relax, unwind, and spend uninterrupted time with your sweetheart. We'll treat you to exquisite southern hospitality and pamper you in the way you deserve.
In the morning, we'll treat you to a delicious multi-course breakfast that provides the perfect fuel for whatever adventures lie ahead. Beyond that, we're here to help you plan your day in whatever way we can – including guiding you to the best things to do in Bardstown for the day. We look forward to your stay this fall. Book your room at our romantic Kentucky Bed and Breakfast today!