If you have never stayed at a Bed and Breakfast before, you are in for a treat!  Contrary to an AirBnB, you will receive service, concierge assistance, a home cooked breakfast and the possibility of meeting new friends!
We have hosted many, many "first time B and B" guests.  I am always fascinated to find out what made them choose to try their first Bed and Breakfast, and what their expectations are.  I distinctly remember one couple where the husband was so nervous, I mean incredibly nervous to the point where he was swaying back and forth and fidgeting his hands.  After getting them settled into their room, he admitted that he had never been to a Bed and Breakfast before and didn't know what to do.  I assured him that all he had to do was relax and enjoy himself.
So here are a few tips for your first stay at a Bed and Breakfast.  I would like to point out that not all Bed and Breakfasts are the same, but this is certainly what you will experience here at Maple Hill Manor Bed and Breakfast.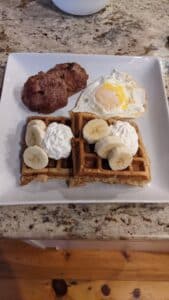 While making your reservation, be sure to provide any food allergies or dietary restrictions.  Most cooks are happy to oblige, but with advance notice.  At least here, our kitchen is not stocked like a commercial

restaurant, so we are required to grocery shop frequently.  We are happy to pick up vegetarian sausage, dairy free milk or cheese, or anything else that is needed to prepare a hot breakfast for you.  But, finding out when you sit down at the breakfast table that you need gluten free options could be a problem.

While your planning your vacation, be sure to check for additional services that you may be interested in.  Here at Maple Hill Manor, you may want to add a Charcuterie Board for a convenient dinner by the firepit, Chocolate covered strawberries and a fresh bouquet of flowers to enjoy for your loved one's birthday, a couples massage in your room for an anniversary, or even a Bourbon Tour Day.  All of these items require advance notice and bookings.
If you have never been to your chosen destination, ask the innkeeper for some recommendations on places of interest.  They will likely have the inside scoop on local attractions, or pointers to help make the most of your trip.
Be sure to read the Policies of the Bed and Breakfast.  This should address things like check in and check out times, cancelation policies and property use restrictions.  For example, we don't have a lot of rules here at Maple Hill Manor, but one is that we do not allow open flames anywhere on the property.  So as romantic as candles are, we just can't risk burning down this historic building.  However, we do have LED candles on site if you would like to create that ambiance in your room.
When you arrive, feel free to come through the front doors.  We will be expecting you at check in time, so the doors will be unlocked, similar to a commercial establishment.  Check in time starts at 4pm here, but other establishments may have different hours.  We will likely be nearby, listening for your arrival and will come to great you as you enter.
To get you checked in, we will show you to your room, provide the key, the internet password, go over the heating/cooling remote, and find out what time you would like your breakfast the next morning.  Unlike hotel chains, we make your breakfast from scratch and want to serve your breakfast while it is freshly cooked so you can have the best meal possible.  We will also answer any questions you may have, and provide restaurant recommendations for dinner if needed.
Some Bed and Breakfasts have an end time to check in.  While we do not have anything set in stone, we do ask that if you are coming in after 9pm, you let us know.  We understand that things happen, and travel plans don't always go the way we expect.

Patio with firepit

There are board games, books and puzzles onsite if you are up for some good, family fun.  There is a firepit on the patio if you are looking to sip your bourbon around the flames.  You will also usually find other folks ready to participate in good conversation.  The hammocks are great to nap on in the shade depending on the season.
Breakfast-the main attraction! (Well, almost.  Here, the historic home and property are really the main attraction).  Feel free to grab your morning cup of coffee from the dining room to enjoy in your room, the living room or even out on the patio.  Grab an open seat at your scheduled breakfast time, and we will serve you.   Typically, we have fruit juices, fresh fruit or a baked sweet treat, local bacon or sausage, an egg dish, hash browns, buttermilk biscuits, or some other yummy surprise!  During breakfast, you will likely meet other people from all over the country.  And don't worry, you are on vacation, you don't need to clear your dishes, we have that covered!
Check out time.  Here at the Manor, out standard check out time is 11am.  You are welcome to enjoy the common spaces, inside and out until then.  Go for a morning stroll, pet the animals such as the mini donkeys, read on the patio, or sip another cup of coffee in the parlor.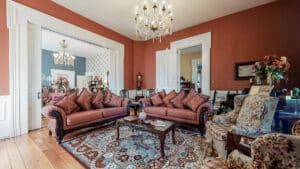 So, that is it in a nutshell, you are now ready to book your first Bed and Breakfast stay!  We look forward to hosting you soon.