Looking for something new?  A night of fun, laughter, and escape from reality for a couple hours?  How about solving a crime?  Gather a group of your closest friends and play along in your own Murder Mystery Dinner Party!  Having your own Murder Mystery Party can be a great way to celebrate a Birthday, Retirement, Promotion, Anniversary or simply an excuse to get together!
How does a Murder Mystery Dinner Party work?  Leave the organizing to us!  Just pick your favorite theme for your party-Roaring 20's, Casino, Mardi Gras, Western, Caribbean, Haunted Mansion, Disco, Masquerade Ball, the possibilities are endless.  You will then receive a list of characters from us to assign to each of your friends.  There is usually a brief description of each character, such as outgoing, shy, or bold.  Sometimes, some of your friends have those same characteristics, they may have been born to play that certain role!  Send us back the list of your friend's names, and the character you assigned to each of them.  We will notify each one of their character assignment.   Now everyone can start putting their costumes together!  This can be as simple as a hat or as elaborate as a head to toe costume with make up.  Get creative!  Note:  It is important that no one compares character notes prior to the party.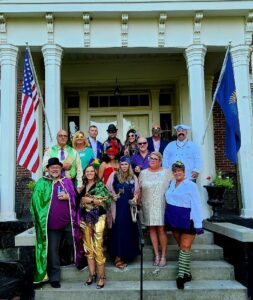 You will also work out your menu with us here at Maple Hill Manor to be served during your party.  In the past, groups have had Chicken Parmesan and Garlic Bread with a green salad; Fresh Baked Atlantic Salmon with Scalloped Potatoes and Green Beans; a Taco and Nacho Bar with a Strawberry Margarita cake; Pork loin with Corn and Cheddar Mashed Potato Fritters; Shrimp and Bacon Chowder with Artisan Bread and side salad.  Let us know your favorites, we just might be able to serve it for dinner!
On the evening of your Murder Mystery Party, everyone will gather as we read the basic instructions to set the scene.  From this point on, everyone stays in character.  Each attendee will receive a clue, not to be shared with others, along with details about their own and possibly other characters.  Typically at this point in the game, players are instructed to mingle, trying to pull out information from other players.  This is where you really get into character, act, play along!  We will keep you on track, pass our your private clues and assist throughout the evening.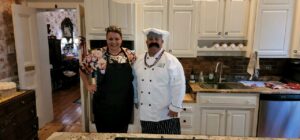 Dinner will be served, in character!  You will continue to pry information and drop hints throughout the meal.  Players will receive a 2nd envelope of clues, and soon, someone will be murdered!  The victim, and the guilty party, do not find out their status until the game night, usually in the 2nd or 3rd round, as each game is structured a little differently.  Once the crime is committed, clues are examined and the accusations fly!  After all the investigating is complete, confessions will be read, and excuses given.
That's it!  Most Murder Mystery games last 2-3 hours, depending on the theme and number of players.  And since you will be staying at a Bed and Breakfast, you don't have to worry about getting up the next morning to make breakfast, we have that covered!
Costs vary to rent the entire house, typically $1400-$1700 per night depending on the season and day of week, plus $50 per person for dinner and the Murder Mystery Party. To inquire about available dates for your group, call Maple Hill Manor at 859-336-3075 today.