Ready for another day of antique shopping in Kentucky?  Yesterday was just a warm-up!
If you missed the first day's schedule of antique shopping in Kentucky, you can catch up on those stores here.
Let's assume it's Friday, all of these stores are scheduled to be open.  Today we are going to head towards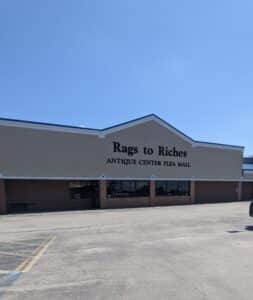 Harrodsburg and Nicholasville Kentucky.  We will need to leave Maple Hill Manor by 9:30 as we have a bit of driving to do.  Our first stop is another Antique Mall, Rags to Riches in Harrodsburg, Kentucky.  They have over 100 vendors with a variety of antiques and collectibles.  Furniture, home décor, tools, jewelry, just about everything.  They are currently open 7 days a week, 10am-7pm, so you could fit this into your schedule no matter what day of the week it is.  I would plan on a good hour here.
Next, we are just headed just 5 minutes up the road to Charmed Antiques, located inside of an old school building so it is easy to miss.   The sign is yellow, but the font is pretty ornate and hard to read at first glance while you are driving.  I missed it on the first pass!  They have a nice consignment selection of furniture, dishes, art work, etc.  They are closed on Tuesdays and Sundays at the time of writing this blog, so be sure to double check their hours before planning your day.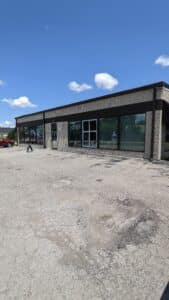 From Harrodsburg head to Nicholasville, Kentucky, about a 35 minute drive to our next stop of Coach Light Antiques.  It's pretty small compared to the malls, and they have a lot of smaller pieces such as dishes, Tupperware and home decor.  So it shouldn't take too long to get through.  When we were there recently, there was a huge display of a wide variety of items made out of bourbon barrels.  My husband found another Cast Iron Penny Bank there, so he is very pleased.  
By now it is probably at least 1pm, so we better stop for lunch!  You have several options in Nicholasville, it just depends on what you are in the mood for.  Chicken Salad Chick is a nice casual lunch spot, with something for everyone in the group.
I am going to add this one to the list because it is in Nicholasville as well, but it may not be your cup of tea if you are strictly looking for antiques, RT 47 Vintage features more retro-to-modern items.  Lots of small items such as clothes, home décor, jewelry.  There was also a decent selection of house plants for sale.
The last stop is probably the best.  Clairborne Antiques is located inside of an old church, so the building itself is a sight to see.  It is FULL of larger pieces, fine furniture, art work, and a good amount of outdoor décor like cast iron furniture, horse statutes, etc.  Well worth the stop! 
By now you are probably ready to head back to the manor, it's been a long day.  It's about an hour drive home, so you may want to stop in Danville for a light dinner or pick something up on your way if you don't want to go back out for dinner. Antique shopping in Kentucky can work up the appetite!  The Parthenon for casual Greek food is delicious, La Cosa Nostra for fine Italian food and a great bar, or Copper and Oak for great food and atmosphere.  If you go to Copper and oak, be sure to order a side of Brussel sprouts, they are incredible!
Stay tuned for Day 3 of Antique Shopping, it's going to be exciting!!!