Antique shopping in Central Kentucky on Day 3 is ready to commence!
Today will be Saturday, so all of the shops will be open.  We are going to focus on Lexington, Central Kentucky today.  There are many, many shops in Lexington, there is no way you will be able to cover them all in one day, or even two!  But this will be a good start.
You are going to want to leave Maple Hill Manor by 9am, so that you can arrive at the Lexington Peddler's Mall by the time they open, 10am.  Let's allocate 1.5 hours here, or less.  This should be just enough time if you skip past the used clothes, tools and other modern items you may not be interested in.  There are booths with antique books, art and collectables at reasonable prices so it is worth a stop.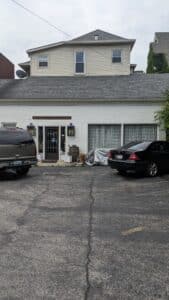 After a short drive you will come to The Domestic.  This will be a very different experience than the Peddler's Mall.  The store is more eclectic with vintage, retro, mid Century and unique and natural items.  Half an hour should be sufficient here.
Our third stop is going to be Thoroughbred Antiques.  This one is a bit tricky to find, we circled the block once.  The parking is
behind the store, so watch for the side alley access on Sayre Ave.  But it is well worth the effort as you will be browsing crystal, silver tea sets, art and fine furniture in no time.  The store is average in size, but packed!   I would allow up to an hour here.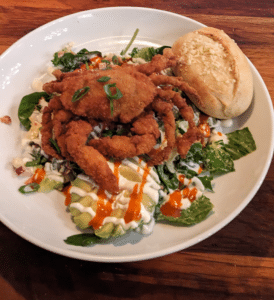 By now you will be ready for lunch!  And you just happen to be near Carson's, one of our favorite restaurants here in Kentucky.  The Gouda Pork Nachos are delicious, and so is the Soft Shell Crab Salad.  If you want a full entre, the Grilled Salmon Oscar Style was amazing!
Ok, we better get going if we are going to make all of our Antique Shopping stops today.  The next stop isn't too far away, Heritage Antiques located in an old church.  Just the building itself is a treat to look at.  But inside you will find furniture, china, architectural pieces and art. You are going to need at least an hour here.  They do close at 4pm on Saturdays, so don't dilly dally!
And the last stop of the day, Subject Matter.  This is very similar to The Domestic-mid-century furniture, lots of natural items.  They do close at 6pm on Saturdays, and you probably only need half an hour to get through the store.
I would imagine by now you are ready to go back to the manor and put your feet up, maybe sip some wine on the patio.  Antique Shopping Day 3 is going to be a long one.  I do recommend picking up dinner on your way, or perhaps you already pre-ordered a Maple Hill Manor charcuterie board for a light dinner.  You are going to want to get some rest because Antique Shopping in Central Kentucky Day 4, is going to be the best one yet!!!!