Ok, this day of Antique Shopping in Kentucky is
going to be EXCITING!!!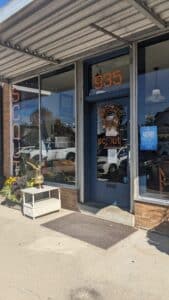 Store front of Scout Antiques and Modern
You have an hour drive to Lexington, but, once you arrive at the first Antique store, you can just walk to all 4 stores!  That's right, they are all basically in the same parking lot!  I recommend leaving the Manor by 9:30am so that you can make the most of the day.  Maybe stop for some coffee along the way, you are going to need the caffeine to fuel up for a full day of Antique Shopping in Kentucky!
Your first Antique store in Kentucky today is Scout Antique and Modern.  This is a fantastic store for quality antiques, mid-century modern and unusual items.  We really enjoyed browsing this store, in fact we found 3 pieces that we really like!  The store isn't huge, but it isn't small either.  I guess we will call that a "medium" sized store.  There is plenty in there to check out.  We found a fantastic framed horse painting and a couple of old framed Kentucky maps.    And, the staff is very helpful!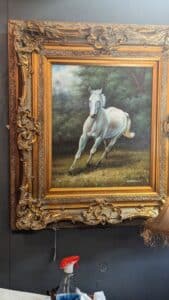 Right next door is the Room Service Inc, an Antique and Consignment store.  This place was full of very reasonably priced items.  And the inventory is constantly rotating.  They feature a lot of furniture and decor. Some, but not all of the furniture had a little wear on it, so just look the items over before you buy.  We can't wait to get back in there and see what else they have in stock.
Further down the sidewalk is a boutique little shop, but it packs a big punch!  Liberty Hill Antique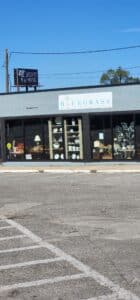 s offers fine furniture, art work, silver and china.
Across the parking lot is Bluegrass Estate Sale.  It quite a large building, and you are going to see a lot of quality furniture, art work, linens, books, crystal and glassware.  It's going to take a while to get through this one, so this will be our last stop for antique shopping today.  You can almost imagine the large generational homes and fine estates these quality furnishings came out of, they are exquisite!
After such a long day of antique shopping in Kentucky, I recommend you stop at Eppings on Eastside for a gourmet dinner before heading back to the Manor.  Save room for their dessert, even if you just share one!  You won't be disappointed with anything on the menu.
Did you already see our other recommendations for Day 1, 2 and 3 of Antique Shopping in Kentucky?  Don't miss them!  You may also want to plan a day off in between some of these shopping days.  Don't wear yourself out!
As always, be sure to check the store hours and days of operation.  It is common for many of the antique stores in Kentucky to be closed on Sundays or Mondays.
Pro tip:  You may want to take 2 cars if there is a group of you shopping together, or, drive a large vehicle with some extra cargo space.  How else are you going to transport all of your treasures from antique shopping in Kentucky today?
Here is the map of all 4 stores you will be visiting today.  I told you these antique stores were close together!  And to make things more convenient on a long day of antique shopping, Eppings on Eastside is just a half a mile away!